Than Volk 2010-2011 Winter Season Ski Edit & Photo Recap – The Teton Session Episode 14.5
by Than Volk | The Teton Sessions Season 1, Videos | May 11th, 2011 | 2761 Views | Comments
If you'd asked me a year ago if I thought I'd be a ski bum at one of world's greatest ski resorts having skied through one of its snowiest seasons on record, I would have told you you were crazy. Jackson Hole's Raymer Plot is currently 3″ short of 700″ and their Rendezvous Plot's 172″ base is 6″ above all instrumentation. Forget the numbers and watch the video, though–I believe it speaks for itself.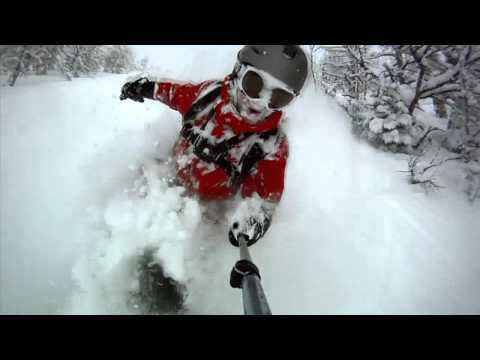 Much thanks for support and inspiration from Teton Gravity Research, Brian Swendseid, Andrew Whiteford, Don Watkins, Julie Weinberger, Jason Smith, Michelle Smith, Kevin Wittig, Jeff Brines, Griffin Post, Todd Ligare, Ryan Halverson, Julian Carr, John Wells, Jordan Kunz, Rachel Shaver, Jared Ishkanian, Abe Kislevitz, Tim Konrad, Andy Lewicky and everyone else I'm forgetting. Here's to what's been a truly remarkable [and safe] season…and to many more.
Skiing & Editing: Than Volk
Music: NYE Chicago Bulls Intro Remix – Pretty Lights
Locations: Jackson Hole, Grand Targhee, Teton Pass, Snowbird
Contact: pointofrelease@gmail.com
My favorite daily photos from the season:
D98 // The view down Little Cottonwood Canyon from @SnowbirdSki's Hidden Peak
D97 // Not bad for the last day of May at @SnowbirdSki
D96 // Another gorgeous day on Teton Pass with @brittmumma
D89 // Finally figured out the backpack mount on Teton Pass today
D87 // A grab from my ski mount while heading down Glory Bowl this evening
D82 // Got my first Corbet's in today AND THEN laid first tracks down one of the Air Force Couloirs
D81 // It's been a good run, Tram Burger. Same place next year?
D79 // Got my first Granite on today and was it FLUFFY! Thanks for showing me around, Danny!
D71 // Super fun and springy up on the hill today, with plenty of big lines up high getting hit
D69 // Will Hagna coasts off a cliff in Rocks Springs Canyon after a sleeper powder run through Four Pines today
D65 // Got my first taste of @Grand_Targhee today. No crowds and plenty of soft stashes before the snow moved in
D64 // What a day! Bluebird with 14″ of fresh in Casper Bowl and the Crags
D51 // The rime crust's building up on the Tram dock
D39 // Just another bluebird day in paradise with 5″ of fresh
D31 // Stoked to have my first Spacewalk in the books
D21 // Watching the Tram go by from Dick's Ditch
Related Posts:
Tags: 2010, 2011, backcountry, backpack mount, chest mount, chesty, cliff, drop, edit, face shot, gopro hero hd, grand targhee, helmet cam, huck, jackson, jackson hole, music, nathaniel volk, nye chicago bulls intro remix, point of release, pole mount, pov, powder, pretty lights, season edit, sidecountry, ski, ski mount, skiing, snow, snowbird, spring, teton gravity research, teton pass, than volk, video, wyoming